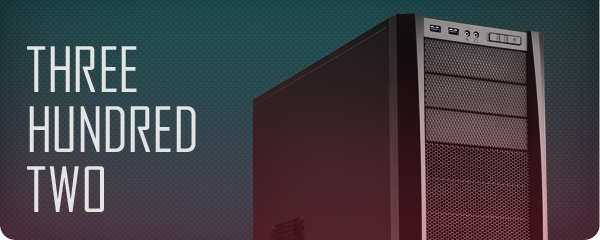 The next generation affordable gaming chassis with high performance cooling advantages and extensive expandability
Berlin, Germany– January 24, 2012 – Antec Inc., the global leader in high-performance computer components, announces the Three Hundred Two enclosure, the latest addition to their Gaming Series. This sleek, black chassis is designed to handle today's and tomorrow's high performance systems that are custom built for gamers from the inside-out.
Three Hundred Two enclosures are perfect for gamers, system integrators and casual builders alike because of its extensive cooling advantages and expandability.
High Performance Cooling Advantages – Three Hundred Two is built for maximum cooling thanks to its perforated front bezel, included dual TwoCool™ fans, four optional fans with one being located behind the motherboard as a CPU exhaust fan to ensure gamers can play beyond the long hours of the night
Extensive Compatibility and Expandability – Three Hundred Two utilizes eight expansion slots for up to three graphics cards with maximum lengths of 12.5" (318 mm) each.
Intelligent Design – The enclosure has removable, washable PSU and front intake air filters, along with a cable management system that features four strategically placed holes and 3 cm of space behind the motherboard tray. It's even easier for builders to start using their new PC right away thanks to Three Hundred Two's three 5.25" and five 3.5" tool-less drive bays.
"Three Hundred Two is an excellent enclosure for those who want to build a reliable, long-lasting PC," said Mafalda Cogliani, the Global Marketing Director for Antec. "The enclosure has great cooling and expandability options, making it the perfect choice for anyone looking to build a new and affordable gaming PC with high functionality and design."
Availability
The Three Hundred Two reaches store shelves and online retail outlets early February with a MSRP of €85.
Detailed Specifications
•  11 drive bays:
3 x 5.25" tool-less drive bays
2 x 2.5" drive bays (dedicated)
6 x 3.5" tool-less drive bays
•  Motherboards: Standard ATX, microATX, Mini-ITX
• 8 expansion slots
• Maximum graphics card size: 12.5" (318 mm)
• Maximum CPU cooler height: 6.7" (170 mm)
• Cooling System:
1 x 120 mm rear TwoCool™ fan
1 x 140 mm top TwoCool™ fan
2 x 120 mm front intake fans (optional)
1 x 120 mm side intake fan (optional)
1 x 120 mm side exhaust fan behind motherboard (optional)
• Perforated front bezel for maximum air intake
• Water cooling support: top water cooling grommets
• Enlarged CPU cutout
• Front I/O ports:
2 x USB 3.0 with internal motherboard connector
Audio In/Out
• No power supply included
•  Unit Dimensions:
513 mm (H) x 229 mm (W) x 471 mm (D)
20.2" (H) x 9" (W) x 18.5" (D)
• Package Dimensions:
565 mm (H) x 290 mm (W) x 525 mm (D)
22.2" (H) x 11.4" (W) x 20.7" (D)
•  Net Weight: 15.3 lb (6.9 kg)
For more information on the Three Hundred Two, please visit the product page.