Six $200-$260 LGA 2011 Motherboards, Reviewed
TAIPEI, Taiwan, March 07, 2012 – Hip, hip, hurray ASRock! Today we are extremely excited to deliver you the good news that ASRock snatched Tom's Hardware 2012 Recommended Buy Award with X79 Extreme4.
So you're looking for a killer LGA 2011 motherboard to impress Tom, Dick and Harry, but don't want to have to file chapter 13 bankruptcy afterwards? The industry's leading IT media, Tom's Hardware reviewed a few least-expensive motherboards based on Intel's X79 chipset and did the math for you once again. Thomas Soderstrom, editor of Tom's Hardware tested six X79 motherboards that ranges from $200 to $260, including mobos from Asus, Biostar, ECS, Intel, MSI, and of course ASRock.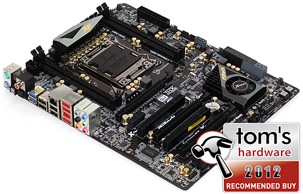 Review detail
http://www.tomshardware.com/reviews/x79-extreme4-dx79to-p9x79-benchmark,3138.html
Thomas Soderstrom noted "ASRock's continued effort to provide higher-end hardware without letting this platform's inherent price premium get out of control is easily illustrated in an X79 Extreme4"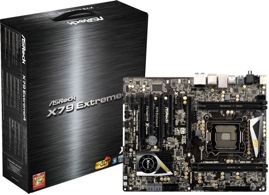 X79 Extreme4
Based on Intel's X79 chipset, this motherboard is packed with great features and awesomeness. The premium gold capacitors cooperate with Digi Power to provide buttery smooth, efficient and stable power solution. There's also ASRock's exclusive XFast family including XFast USB, XFast LAN, XFast Charger and the newest member – XFast RAM, which remarkably buffs up the system's performance while extending your HDDs or SDDs lifespan at the same time. In addition, NVIDIA 3-Way SLI and AMD 3-Way CrossFireX technology guarantees eye popping visuals, making X79 Extreme4 a motherboard full of wins.
Rumor has it that good things don't come cheap and LGA 2011 motherboards are not quite economical friendly products. However ASRock beats all odds and proves again that high quality and good price may exist simultaneously. When it comes to providing advanced motherboards and saving your piggy bank, ASRock has got your back covered.
For more product information, please visit:
http://www.asrock.com/mb/overview.asp?Model=X79%20Extreme4