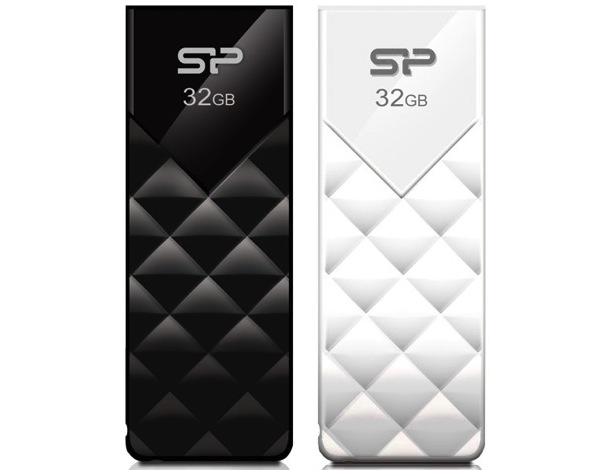 Taipei, Taiwan – June 26th, 2012 – SP/Silicon Power, the world's leading provider of memory storage solutions announced today its newest luxury design Ultima U03, an elegantly designed USB drive that is the perfect tech accessory to go with that special stylish purse.
Classic Reinvented
The elegant design of SP Ultima U03 is simple yet classic. The front cover features a luxurious diamond cut pattern with a glossy surface, and the textured rear cover includes a retractable USB connector for easy access and storage. U03 is available in mystery black and snowy white to best match your fashionable collection.
Fabulously Designed with Practical Functions
Ultima U03 allows users to carry data around in fashion and ease. It is available in up to 32GB high capacity, and its built-in internal LED indicator illuminates through the front cover to display data transfer status during use. 
All Silicon Power USB flash drive products come with a lifetime warranty, as well as SP Widget application software which provides seven major back up and security tools. For more information, please visit the SP/Silicon Power website: www.silicon-power.com
Product Features:
Luxurious diamond cut pattern, fashion style
Special cap-less design with retractable USB connector
LED indicates the usage status
SP Widget free download provided
Product Specifications:
Size: 55.0 mm x 20.0 mm x 8.6 mm
Weight: 13g
Interface: USB 2.0 & 1.1 compatible
Capacity: 4GB, 8GB, 16GB, 32GB
Color: Mystery Black / Snowy White
Operating temperature: 0° C ~ 70° C
Supported OS: Windows XP/Vista/7, Mac OS 10.3.x, Linux 2.6.x
Warranty: Lifetime warranty