System Builder Marathon, Q4 2012: $500 Gaming PC
TAIPEI, Taiwan, December 6, 2012 – It's that time of year again. You're justified to reward yourself (or others) with a nice present for making it to another new year. Time to stuff your stockings with a new gaming rig! Tom's Hardware, the authority on tech has a few recommendations for an inexpensive gamer in its latest review "System Builder Marathon, Q4 2012: $500 Gaming PC", and the motherboard for this specific build is ASRock's H77 Pro4/MVP.
Journeying deeper and deeper into the high-end segment, ASRock has released numerous sock knocking motherboards throughout the year, including ASRock's H77 Pro4/MVP. Tom's Hardware chose this motherboard for the best $500 gaming PC for various reasons. "Some of the features more relevant to our configuration include all-solid capacitors, four DIMM slots, native SATA 6Gb/s and USB 3.0 ports, a handful of USB 2.0 ports, and legacy PCI expansion slots. The board also supports Intel's Smart Connect and Rapid Start features, along with Lucidlogix's Virtu Universal MVP technology. ASRock's Combo Cooler Option gives you the flexibility to mount LGA 775-, 1155-, and 1156-based coolers, too." Editor Paul Henningsen Remarked.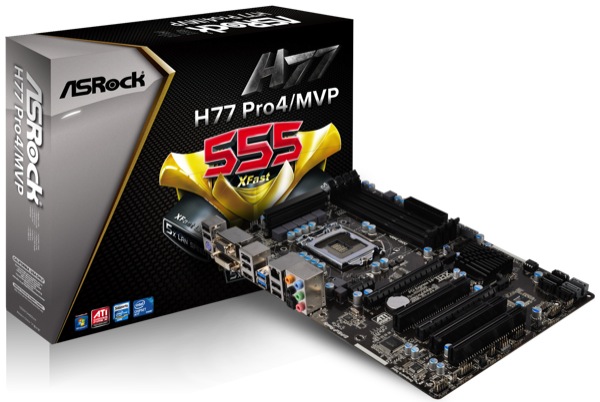 $500 Gaming PC System Components:
http://www.tomshardware.com/reviews/budget-gaming-do-it-yourself-computer,3364.html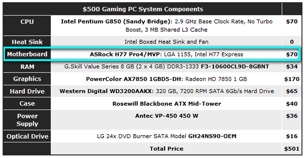 ASRock's H77 Pro4/MVP is fully equipped with features that will satisfy the average gamer. The motherboard uses all solid capacitors, Digi Power, high speed PCIe 3.0 expansion slot, and has a total of three VGA output options (D-Sub, DVI-D and HDMI). But that's not all; with Lucid Virtu MVP it also offers no-compromise visual qual­ity and reduces redundant rendering tasks, which is essential for users that simply cannot put up with mediocre graphics.
If you craze for computer games as much as we do, join in our crusade! Wield your own customized weapon to battle, build a unique computing machine with $500 and start gaming religiously with ASRock's H77 Pro4/MVP!
For more information about the motherboard, please go to: http://www.asrock.com/mb/Intel/H77%20Pro4MVP/