TAIPEI, Taiwan, January 7, 2013 – ASRock's award winning, 1st place snatching, record breaking OC Formula has rewritten history once again today by passing Super PI 32M by an unbelievable 4 minutes 41.641 seconds new world record! ASRock OC Formula, which was designed by the maestro of overclocking Nick Shih himself, has already set numerous overclocking records since its launch last year. These great results all indicate that ASRock OC Formula is the ultimate weapon for extreme overclocking.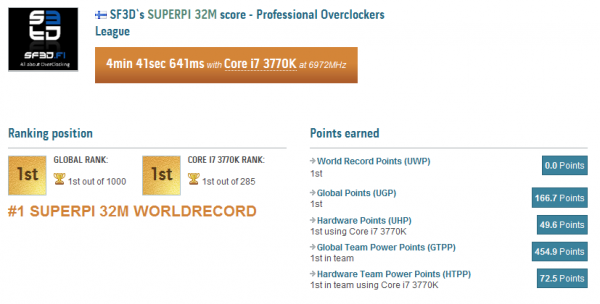 Above: Overclocker SF3D from Finland used an Intel Core i7 3770K processor, ASRock OC Formula and liquid nitrogen to finish Super PI 32M by 4 minutes and 41.641 seconds!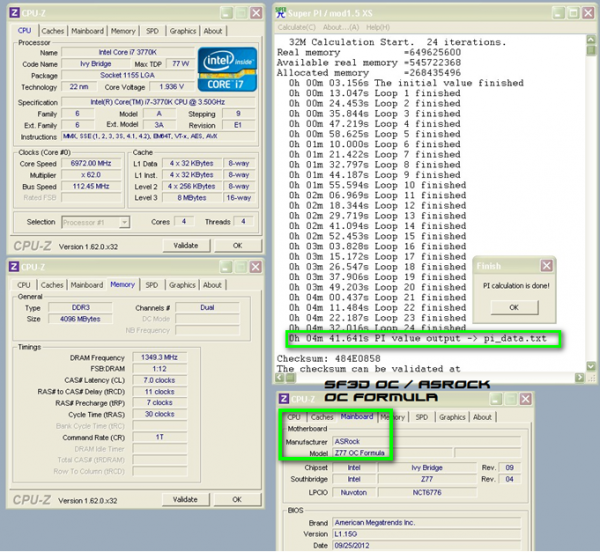 Above: The Finn overclocker SF3D overclocking an Intel Core i7 3770K CPU to 6.972GHz on ASRock OC Formula, and then sets a new world record by running Super PI 32M calculation by 4 minutes and 41.641 seconds. The amazing score was done by SF3D OC Inflection point CPU pot and SF3D OC Triple point pot.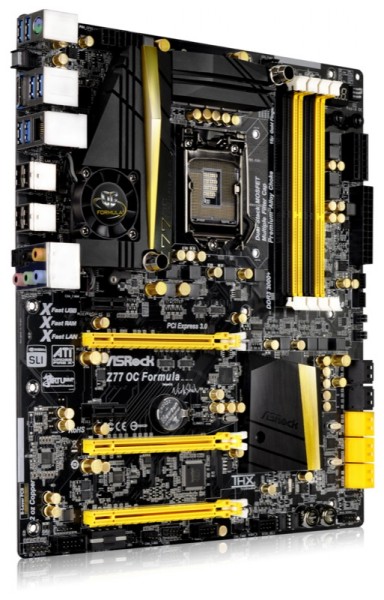 ASRock Z77 OC Formula comes with three exclusive Formula kits. The Power Kit provides smooth voltages for the CPU with Digi Power, DSM, PAC, MFC and 12+4 power phase design. The Cooling Kit is composed by a Twin-Power Cooling Heatsink, 8-layer-PCB design with 4 sets of 2oz copper inner layers and GELID Solution GC-Extreme Thermal Compound for extending possibilities. Lastly, the Connector Kit which includes Hi-Density Power Connectors and 15μ Gold Fingers promises system stability. Overclocking? You had better choose ASRock OC Formula for the win.
For more detail information, please visit :
http://www.asrock.com/microsite/OCFormula/