Hannover, Germany, March 6th, 2013 – ASRock Inc, the leading brand of professional gaming motherboards, today announced a new sponsorship of international multi-gaming organization SK Gaming. With the new sponsorship, ASRock and SK Gaming will be affiliated throughout 2013/2014 and the full ASRock gaming motherboard line will support SK Gaming's tournaments around the globe.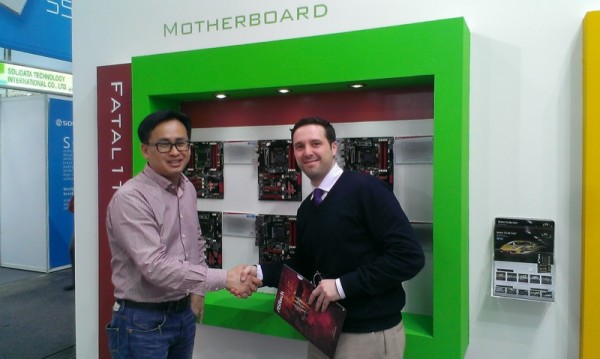 ASRock and SK Gaming Announced Official Partnership at CeBIT2013
SK Gaming was founded in 1997 and has played the most popular games such as League of Legends (LoL) and StarCraft II (SC2) in the fast growing eSports industry. Since then, the organization has housed some of the most accomplished and successful eSports players in the world and has won championship titles in practically every major event. In 2006, SK Gaming attended a total of 92 eSports events and secured first place in 66 of them. Besides the group achievements, SK Gaming has outstanding individual gamer results as well. MC, who possesses two GSL champion titles and won the 2012 Intel Extreme Masters World Championship, has been regarded one of the greatest Protoss players in the world.
ASRock will sponsor SK Gaming members with ASRock Fatal1ty series motherboards, which were released since 2011 and are targeted at the hardcore competitive gaming segment. "Being chosen as the exclusive gaming motherboard provider for the SK Gaming team is a milestone for us! The blistering performance of Fatal1ty will satisfy the most demanding hardware requirement by professional gamers" said James Lee, VP of ASRock Sales and Marketing.
"The Fatal1ty series gaming motherboards from ASRock are the best of its kind," said Alexander T. Müller, the Managing Director of SK Gaming. "Our players were all extremely pleased with the performance and the features of the motherboards during their most recent practice sessions. We are glad to finally join forces with ASRock and excited for what is yet to come over the course of this partnership!
In addition, two of the global top gaming teams sponsored by ASRock: IM and SK Gaming both entered the Final of Intel Extreme Master World Championship, one of the most important international gaming events which will take place at CeBIT 2013 Hall 23, from March 5th to 9th. The top SK Gaming players are also going to perform a live gaming show at the ASRock booth during CeBIT 2013, showing the extreme performance of the hottest gaming gears! ASRock welcomes everyone to experience the best gaming motherboards with the world leading gamers!
For more information about SK Gaming, please visit:
For more information about ASRock at CeBIT 2013, please visit:
http://www.asrock.com/news/show/cebit2013/
SK Gaming start player list
LEAGUE OF LEGENDS
Adrian 'Candy Panda' Wübbelmann
Carlos 'ocelote' Rodríguez Santiago
SC2
QUAKE III
FIFA
Bruce 'SpanK' Grannec'
Recent Achievements
2013
2nd Kingston HyperX 10-Year Anniversary Tournament January (MC, Starcraft II)
2012
1st ESWC 2012 (SpanK, FIFA)
3rd Quakecon 2012 (Rapha, Quakelive)
2nd Riot Season 3 European Finals (League of Legends)
2nd GSL 2012 S3 (MC, Starcraft II)
3rd North American Star League S3 (MC, Starcraft II)
3rd HomeStoryCup V (MC, Starcraft II)
3rd OnGmeNet Starleague Season 1 (MC, Starcraft II)
1st DreamHack Summer 2012 (Rapha, QuakeLive)
1st Red Bull Battlegrounds Austin May (MC, Starcraft II)
1st MLG Spring Arena 1 2012 April (MC, Starcraft II)
1st IEM 6 World Championship (MC, Starcraft II)
1st HomeStoryCup IV (MC, Starcraft)