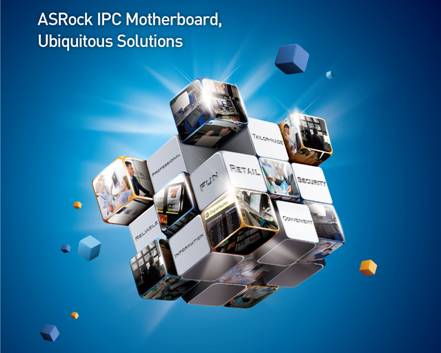 TAIPEI, Taiwan, April 18, 2013 – ASRock, the global leading brand of motherboards, announced today that it will exhibit at 2013 Design West in the US and ESEC in Japan. Throughout the exhibition, ASRock will display Intel's latest 4th generation products and AMD's new solution to focus on the vertical market.
In order to accelerate strategic deployment in North America, ASRock will be participating in the 2013 Design West Exhibition at the San Jose McEnery Convention Center from April 23rd to April 25th in the United States. With a solid background in providing reliable embedded IPC solutions, ASRock looks forward to cooperating with regional customers such as United States and Canada for long term business relationships.
Participating at ESEC again this year, ASRock is proud to display its comprehensive industrial motherboards at the 16th Embedded Systems Expo (ESEC) 2013. The trade show will take place at the Tokyo International Exhibition Center (Tokyo Big Sight) in Japan during May 8th to 10th, 2013. With over 1500 exhibitors and 85000 visitors in 2012, ESEC is recognized as one of the major embedded system trade shows in APAC region. In 2012, ASRock has already received positive sales and media feedback from Japan, ASRock plans to introduce more diversified IPC solutions to enterprises and customers in the Asia Pacific region in 2013.
Besides, ASRock is going to show the new product line of 3.5″ single board computers at 2013 Design West and ESEC. ASRock's 3.5″ single board computers measure 146 x 102 mm and features fan less/ low profile compact designs, ultra low power consumption, rich I/O and expansion ability, high shock and vibration resistance, and extended temperature options. ASRock's IPC Motherboard Series are surely the best solution to build up a successful business.
Welcome to ASRock's booth, here you shall experience a full range of industrial motherboard products. If you want to schedule an appointment with one of ASRock's IPC representatives at Design West and ESEC 2013, please don't hesitate to contact us by [email protected].



Exhibition: Design West
Time:April 23rd to 25th, 2013
Location:San Jose, United States Of America
Booth number: 1645


Exhibition: ESEC
Time:May 8th to 10th, 2013
Location:Tokyo, Japan
Booth number: WEST 11-19
For more information, please visit our IPC website: