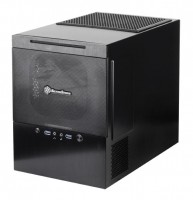 To further increase the appeal of the groundbreaking Sugo SG09, SilverStone engineers crafted a follow-up version in the SG10. The front panel now utilizes a 7mm thick aluminum with a fine filter hidden beneath this has tremendously increased its simple and elegant appearance. Designed as the ultimate SFF with only 23liters, the SG10 retained all of SG09's features and still able to accommodate standard size components such as ATX power supply, Micro-ATX motherboard, full tower CPU cooler and dual 13.3" high-end graphic cards. For those looking to challenge their own PC building skills in return for a superbly packaged machine that has uncompromised performance and is portable, the Sugo SG10 is the one to get.
Special Features:
Support graphics cards of any length
Support full tower CPU coolers
Support Strider Plus PSUs up to 1000W
Mandatory cable routing design
Ample fan slots for maximum airflow
Cleanly styled aluminum front panel
You can find further information about SG10B USB 3.0:
http://www.silverstonetek.com/product.php?pid=392&area=en&tid=
SilverStone SG10B USB 3.0 will be available on the 10th of June.
The recommended End User price (excl. VAT): 99,90 €