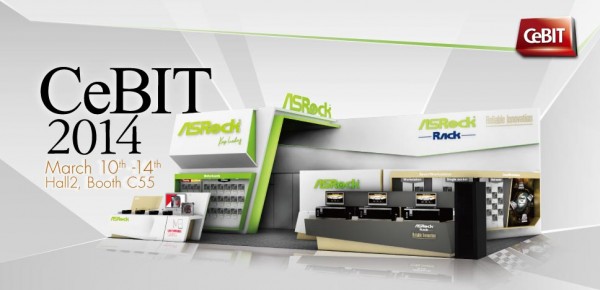 TAIPEI, Taiwan, March 7, 2014 – A new page of history in IT developments is about to unfold in Hannover, Germany from March 10th to 14th. Yup, CeBIT 2014 is happening again, one of the biggest gatherings of the latest and greatest in IT trends and innovations! ASRock, the world's leading motherboard manufacturer will also be there at Hall2, Booth C55, along with its new line of ASRock Rack servers, DIY motherboards, gaming PCs and mini PCs.
ASRock Rack Servers
On the server side, 3U8G and 4U60L will be the center of the spotlight. Aiming at the HPC and mission critical application, ASRock Rack is the first in the world to release a 3U system with 8x hot plug GPGPU/MIC card support. This ASRock Rack 3U8G system supports up to 8 units of FHFL (Full-height, Full-length) PCIe x16 cards and dual Intel® Xeon® E5-2600/4600 v2 processors in a 3U chassis. Most importantly, ASRock Rack's 3U8G successfully optimizes the thermal performance by allocating the 8 x PCIe slots at the front side. With this advanced architecture design, the system may effectively lower the temperature of the CPU and PCIe cards hence increasing the overall computing performance for both the CPU and GPGPU/MIC.  It is also good for maintenance, since users can save the hassle of unloading the system from the rack to replace bad cards.


As for 4U60L, ASRock Rack presents its 4U barebone that can contain up to 60 HDDs. This system is well architected to switch among different modes with minor changes on the system board to support (1) High Availability (2) Zoning (3) JBOD to meet your demand of a high-density storage server.


DIY Motherboards with ASRock Cloud
This time there will be four branches for the mainstream motherboards, including Overclocking, Gaming, Extreme and AIOs. OC Formula Series will continue to be fast and furious when it comes to overclocking. Fatal1ty Series and ASRock Killer Series for hardcore gamers to gear up and enjoy pwning adversaries over the internet. Extreme Series built with high class components and offering luxurious features, such as ASRock Cloud – a whole new level of cloud computing made possible by Orbweb ME. Not only does it support wake on wan and remote desktop, but also comes with a file explorer feature, so that users may conveniently stream video files or download files between PC and mobile devices.


iF Product Design Award 2014 Winner: ASRock M8
M8 – ASRock and BMW Group DesignworksUSA's gaming machine has swept through the gaming market and collected countless prestigious awards last year. Now it is coming back to CeBIT 2014 with yet another glorious victory, the iF Product Design Award 2014!


Now that you know where the party is at, stop what you're doing immediately, hang up all the phones, cancel the schedules, book those tickets and come join ASRock and ASRock Rack and CeBIT 2014, Hannover Germany!