Ultimation is Evolving of the GTX's gaming laptop
Taipei, Taiwan – MSI, the leading gaming computer innovator and manufacturer, unveils the latest "GT72 Dominator/Pro, the new landscape in mobile gaming notebooks. With brush metal and aesthetics lines inspired by matte black racing super cars, the new GT72 Dominator/ Pro gaming notebooks is designed to be overwhelming dominator of the cyber world. Armed with the Intel Core i7 processor and NVIDIA's latest launched GeForce GTX980M/ 970M discrete graphics, it is believed that the new GT72 Dominator/Pro will be continuously taking the performance leadership in the market.
Eric Kuo, vice president for global sales & marketing, MSI Notebook, points out, "As a result of the booming competition gaming market, there has been an increasing number of heavy-load games, so gamers are demanding more in terms of graphics, functions, and other design features specifically for gamers. MSI has heard their desire and responded with numerous breakthroughs and innovations. The result has been gaming laptops with the latest processor and display card on the market, most advanced and rich array of gaming features, and better gamer-friendly experience."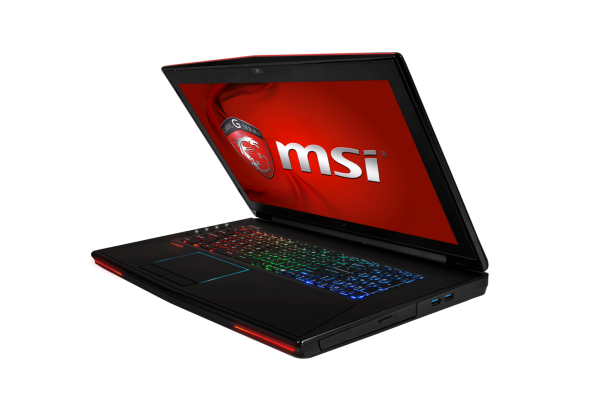 The gaming oriented design and performance of MSI gaming notebooks is winning over more and more enthusiast gamers. MSI, which has worked with many gaming teams in all kinds of gaming activities and competitions, including world-renowned FNATIC. Patrik, under whose leadership the team has won over a dozen first places in CS world gaming competitions in a decade, points out on a regular basis, "The superior gaming experience, performance, and durability of MSI gaming notebook computers have made them our team's only choice, because you can really depend on them when the bullets start flying. In fact, not only are they great for gaming, they are the ideal choice for multimedia too. No matter where we go in the world to compete or take part in activities, our laptops can be up and ready and we can be practicing in Full HD in no time at all. One major reason FNATIC has done so well as a team is our MSI machines."
GT72 Dominator Photo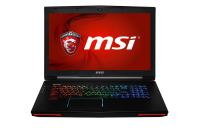 The latest NVIDIA graphics – GeForce GTX980M/ 970M
The NVIDIA GeForce GTX 900M Series brings extreme, next-generation graphics performance to serious gaming notebooks. The MSI GT72 Dominator/ Pro is powered by the ultra-efficient GeForce GTX 980M created on an 28nm manufacturing process. Performance compared to its predecessor is up by 28% in 3DMark 11 and ensures graphics performance is on truly on par with desktop gaming systems. The GeForce GTX 980M has new CUDA architecture design, a 256 bit memory interface and GDDR5 memory. This solution provides enough grunt and space for those ultra-high resolution textures that makes the next-gen games look great.
Latest features for extreme gaming experience!
Super RAID 3 technology with 4 SSD RAID 0
Featuring the exclusive technology made by MSI, named Super Raid 3, the data read/write speed of the storage will reach 1600MB/sec or more, while 4 SSD combined with RAID0 setting is the key. The Super Raid 3 is no wonder the most advanced storage technology considered both big capacity and high efficiency.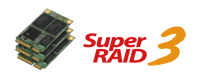 Brand new feature SHIFT to fit the perfect balance
The whole new feature SHIFT brings you total control over the system's power management. Switch between profiles "Sport," "Comfort," and "Green" to find the perfect balance between system performance and temperature.


Cooler Boost 3–better performance, less noise
The new-designed Cooler Boost 3 thermal system is made uniquely for next generation extreme performance. With advanced cooling efficiency and stability, it doesn't increase any extra space but lower noise been made. The heat been generated by core components will be transferred to the vent quietly without troubling the users. Furthermore, this outstanding design could easily support extreme high watts CPU like Intel Core i7 4940MX and Nvidia Geforce GTX980M graphics with overclocking to under 90℃ and 40dB noise level.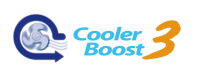 With Killer DoubleShot Pro, you call the shots
MSI GT72 Dominator/ Pro is the 1st laptop in the world who features Killer DoubleShot Pro. The Killer Double Shot Pro supports both Killer GB LAN and WIFI 802.11ac protocol and average latency improvement is 3.5 times than others who support 802.11ac as well. It also has Smart Teaming function which will be operated by Killer Network Manager to optimize the bandwidth usage between WIFI and LAN at the same using time.

Audio Boost 2 for better gaming headset sound detail
With dedicated AMPs for headset, isolated audio board and gold flash audio jack, the Audio Boost 2 is definitely delivering the most advanced hearing experience on gaming laptop, averagely enhance 30% of the sound signal. It gives the gamers more sound detail to identify the position of the enemies and minimize the distortion, which is the perfect design for gaming headset spec 32/48ohm. The gold flash audio jack will give less noise interference and assure the durability between pug-in and pug-out.


XSplit Gamecaster : Best Live Streaming App for Gamers
MSI GT72 Dominator/ Pro comes with the latest online streaming software, the XSplit Gamecaster.
It's the recording and streaming App for gamers, and let gamers easily record their own gaming moments and share the live gameplay sessions with friends, family, or the world through Twitch, Youtube, UStream and more.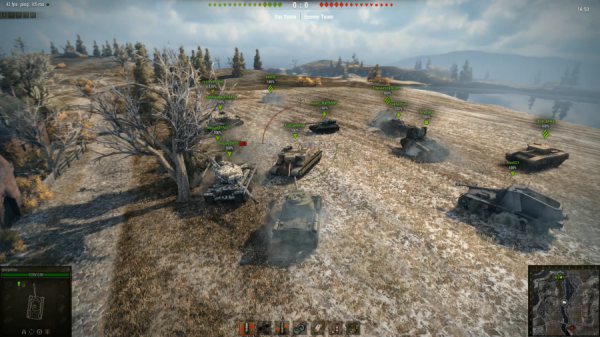 "World of Tank" live streaming with Gamecaster is very smooth over 60FPS.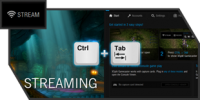 Add a Webcam and show your game face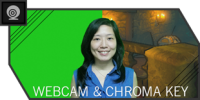 Draw attention whilst casting with in-game annotations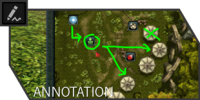 Share your broadcast and conquer the world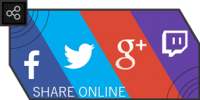 Organize and upload your greatest gaming moments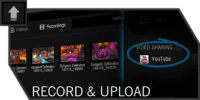 Gaming keyboard by SteelSeries with backlit
Exclusive keyboard position and golden triangle layout to offer faster and longer-lasting keyboard action. MSI has improved the resilience and tactile feedback of each and every key. Users will no longer have to deal with flimsy keys.


Steelseries Engine brings your game style
SteelSeries Engine is the Apps to combine all frequent functions for gamers in order to easily customize every individual key and functions to personalize every gamer's play style, including KLM, multiple devices management (for example, headset, mouse, and keyboard), keypress macros, and text macros.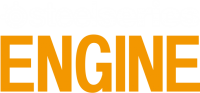 Matrix multi-display presents 3+1 monitors usage
Matrix display features up to 3 external displays, allowing you to output to 3 displays simultaneously using HDMI 1.4 mini and dual Display-Port 1.2. Users can work with multi-task at the same time. (Overall 4 monitors include notebook's monitor on GT72 Dominator/ Pro)

Dynaudio sound system for authentic fidelity sound
Cooperated with the leading speaker company Dynaudio for years, now GT72 Dominator/ Pro is packing the latest speaker design with 2.1 channel and its absolutely authentic hearing experience. The signal has been enhanced 50% sound detail and up to 10db volume has been increased, people who play games or enjoy movies will absolutely be immersed in the perfect system with outstanding sound effect.

Sound Blaster Cinema's enhanced wrap around sound
All MSI gaming laptops this year feature upgraded Sound Blaster Cinema 2 wrap around sound, making the already cutting-edge Sound By Dynaudio 2.1 channel sound system, even better with optimized software solutions in particular for wrap around sound, human voices, virtual bass, and low quality audio sources. Sound Blaster Cinema and MSI's superior sound system complement each other exceptionally well.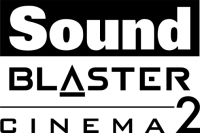 Model name
GT72 Dominator / Pro
Operating System
Windows 8.1
LED Backlight Display
17.3″ Full HD (1920×1080), matted panel
Processor
The 4th generation Intel® Core™ i7 Processor
Memory Type
DDR3L, up to 1600MHz, 4 DIMM, max 32GB
Graphics
GeForce GTX 980M / GDDR5 8GB (Dominator Pro)
GeForce GTX 970M / GDDR5 6GB (Dominator)
Hard Disk Capacity
From single HDD up to 512GB Super RAID 3 + 1TB HDD 7200rpm
Keyboard
Full-color backlight, Keyboard by SteelSeries
Optical Disk Drive
BD Writer / DVD Super Multi
USB 3.0/2.0
6/0
Card Reader
SD(XC/HC)
Video output:
HDMI 1.4 / 2x MINI DisplayPort 1.2
Mic-in/Headphone out
1/1/1(line in)/1(line out)
LAN/WiFi
Killer DoubleShot Pro (Gb LAN+ 802.11ac)
Bluetooth
Bluetooth v4.0
Webcam
30 fps FHD
Battery
9-Cell Li-Ion 83wHr
Power Adapter
230W
Dimension (WxDxH)
428(W) x 294(D) x 48(H)mm
Weight
3.78Kg (w/ Battery)