TAIPEI, Taiwan, December, 02 – World's Top3 motherboard maker, ASRock Inc. is pleased to announced that Intel® Core™ i7 3960X CPU processor was overclocked to 5GHz with ASRock overclocking beast X79 Extreme9 motherboard. X79 Extreme9, the top-of-the-line board of ASRock X79 platform, brings a bucketful of OC features that is turned to deliver fantastic performance and is perfect for overclocking. Like all high-performance motherboard from ASRock, X79 Extreme9 mobo undergoes rigorous texting, ensuring you will get rock-solid stability out of the box.

Overclocking is a method to squeeze more power out of the PC, but it's not just only for professionals! Simply load CPU EZ OC setting in ASRock new UEFI, Intel® Core™ i7 3960X CPU was able to overclock to 5GHz within seconds with air cooling. Overclocking the DRAM is even simpler with ASRock X79 Extreme9. Just go to the DRAM timing control and load XMP 1.3 setting, PC could easily reach DDR3 2133MHz with G.Skill DDR3 F3-17000CL9Q-16GBZHD memory modules. Good news is that all series of ASRock X79 Motherboards support Intel XMP 1.3 profile setting. Thus, users are ensured to explore the maximum speed of your XMP 1.3 DDR3 memory modules.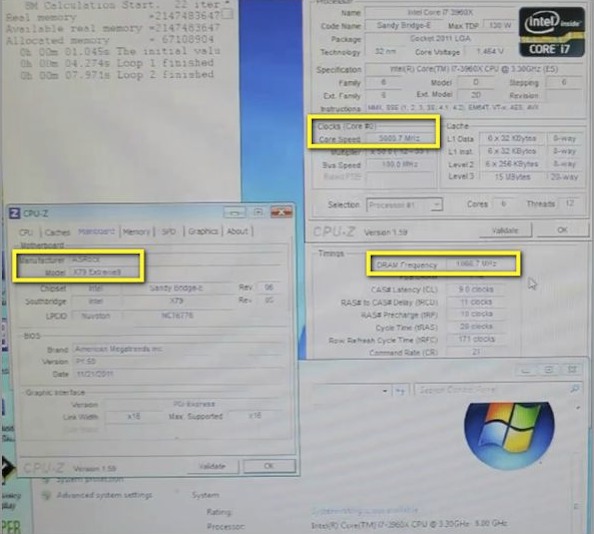 ASRock provides the most overclockable mainboards, allowing overclockers to get a fair chunk of extra performance from them for very little extra effort. With ASRock X79 Overclock KING motherboard series, users could easily build up the overclocking monster effortlessly.
For more details of ASRock X79 Extreme9, please visit :
ASRock X79 Series MB: http://www.asrock.com/microsite/IntelX79/