GERMANY, Hannover, March 6, 2012 – The World's top3 motherboard manufacturer, ASRock Inc., presents its greatest advances in PC technology at CeBIT 2012. ASRock has built up a reputation for building bulletproof mobos with very competitive package tag. In addition to a wide range of motherboard and HTPC product lineups, there'll be a new blood firstly appeared at ASRock CeBIT, which is: Industrial PC motherboards. Encoding the expo theme of "Keep Leading", ASRock will release several cutting-edge computing kits at the show, including the Motherboard Emperor 'X79 Extreme11', Overclocking Genius 'Z77 Extreme9', Gaming Beast 'Fatal1ty X79 Champion', Performance Gear 'Fatal1ty 990FX Professional' and the 3D-oriented HTPC media systems.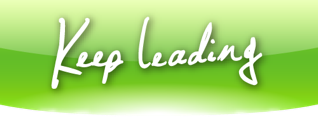 "Technology is getting being easier to use! And it is our commitment to make all users easily working with their PC." said James Lee, V.P. of ASRock Sales and Marketing. "We're keen on developing user-friendly tools to facilitate daily computing. XFast 555 Technology Series (exclusive from ASRock) is just the amazing kit that users are needed." He stated. "To make the PC dance, we also need a perfect combination of hardware and software!" With galore software package and quality-relied components, ASRock believes their unique spirit of product development could make them to remain distinctive in motherboard market.
TECH SPOTLIGHT
XFast 555 Technology : XFast RAM / XFast LAN / XFast USB
ASRock endeavors in delivering the most trusted motherboard products and most convenient software kits to users. All the innovative features of XFast 555 Technology are not specialties for the latest motherboards but can be implied on all series of ASRock motherboards.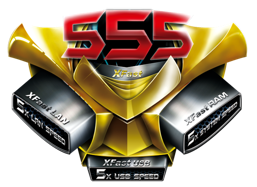 XFast RAM will create a virtual disk from the system memory to boost the system performance. For Photoshop. It can even perform 5X faster than before. XFast LAN can lower latency in game after setting online game priority higher and drive 5X faster performance for gamers. XFast USB is the world's fastest USB transfer technology and provides up to 5X faster performance boost in USB data transfer speed.
Game Blaster : Unleash Your Maximum Power
ASRock Game Blaster was designed to exceed the expectations of even the most dedicated gamer. It is the first combo card coming with both Creative 7.1 CH HD Sound Core3D Audio and Broadcom Gigabit LAN in the world.
Powered by Sound Core3D™ quad-core audio and voice processor, the revolutionary Game Blaster delivers the first-class sound experience to extreme gamers! This breakthrough audio chip even brings some exciting features, allowing gamers to enjoy pure gaming audio, such as THX TruStudio PRO™ sound technologies, CrystalVoice™ and EAX 1.0 to 5.0 solid sound technologies.
Designed for performance gaming, ASRock Game Blaster also supports the state-of-the-art Scout Mode™ technology. It is a proprietary technology that allows you to hear your enemies from further away, giving you a distinct tactical advantage in combat.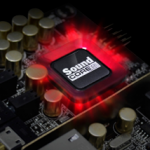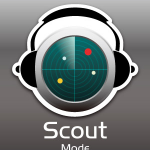 ASRock Game Blaster is setting a whole new standard for gaming audio. It's been designed for incredible sound experience and precise accuracy. It's also aiming to unleash the maximum gaming performance.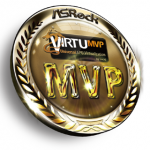 Virtu Universal MVP : Uncompromised Game Response Performance
Brilliantly designed for gaming, Virtu Universal MVP™ switchable graphics feature assigns tasks dynamically to the best graphics resource regardless of physical cable connections. Besides, there're two new technologies newly introduced here. HyperFormance™ combines integrated and discrete graphics for uncompromised performance and get up to a 90% performance boost! Virtual Vsync™ solves the ever lasting debate between quality and performance. It even brings GPU performance from 60 FPS Vsync limit back to its maximum while keeping Vsync image quality and no tearing.
Fast response is incredibly important in games. Virtu Universal MVP™ is just the secret weapon to smooth the gameplay. It will be applied on ASRock Z77/Z75/H77 (H77 Pro4/MVP) and AMD A75 (A75 Pro4/MVP) motherboards. The revolutionary software makes your game respond faster, process video and media smoother – all within a low power environment.
MOTHERBOARD
Motherboard Emperor : X79 Extreme11
At very top end we could see the finest motherboard: X79 Extreme11. This is a premium motherboard using luxury material, applying high-class specification. It's a well-built motherboard and packed to the gills with features. The unprecedented X79 Extreme11 was equipped with LSI SAS2308 chip, providing maximum 10 sets of SATA3 connectors and 8 of the 10 can be used as SAS. Although Intel has recalled native SAS specification from its X79 Express chipset. ASRock specifically partnered with LSI™ to integrate a LSI SAS2308 chip to make SAS finally appear on its X79 Extreme11 motherboard.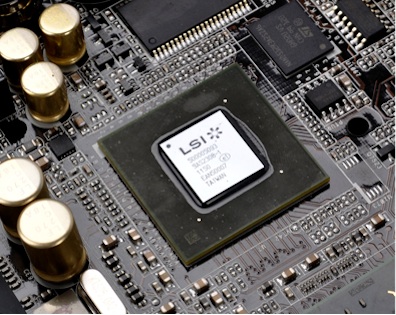 PC enthusiasts will also be amazed with the onboard two PLX PEX 8747 bridges. PLX bridge offers solid PCIe 3.0 lanes for PCIe devices and is optimized to support high performance graphics. The two charming bridges make the X79 Extreme11 to be the world's 1st motherboard supporting 4-Way SLI and CrossFireX at PCIe Gen3 x16 / x16 / x16 / x16 mode!
Another singing star here is the onboard Creative Sound Core3D quad-core sound and voice processor. It offers rock solid sound experience, supports THX TruStudio PRO™ superior technology, CrystalVoice, EAX 1.0 to EAX 5.0 and Scout Mode™. Featuring the independent processing core, ASRock X79 Extreme11 motherboard allows users to enjoy a pure and solid audio experience.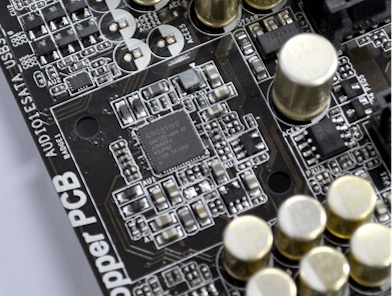 Get ready for a power efficiency, integration and outstanding compatibility motherboard. ASRock X79 Extreme11 is a rare, superior motherboard in the market! It brings all luxurious components together, allowing extreme users to bring their computing to the highest level of performance.
Overclocking Genius : Z77 Extreme9
Z77 Extreme9 is a very powerful, future-proofed, highly overclockable machine and has the most overclockable configurations. It supports the Next Gen Intel Core Processor and also 4 DIMM DDR3 memory up to 2800+(OC) MHz. Digi Power provides CPU Vcore voltage more efficiently and smoothly. Advanced 8 + 4 power phase design features sturdy components and completely smooth power delivery to the CPU. The most singing specification would be the onboard PLX PEX 8747 bridge. With this, ASRock Z77 Extreme9 is able to run dual VGA cards (2-Way SLI / CrossFireX) at PCIe Gen3 x16 / x16 mode or four VGA cards (4-Way SLI / CrossFireX) at PCIe Gen3 x8 / x8 / x8 / x8 mode.
The board even provides a remarkable mini-PCIe slot that is able to work with the bundled WiFi + BT module. Users can take advantage of WiFi 802.11n and Bluetooth v3.0 with ASRock Z77 Extreme9. In addition, ASRock has a pretty good idea which is to bundle a Wi-SB box with this board. Wi-SB box combines the 2 antennas for WiFi + BT and two front USB 3.0 ports. Coupled with WiFi + BT module and ASRock Wi-SB Box, users are assured to enjoy WiFi, BT and USB 3.0 function with this overclocking genius mainboard effortlessly.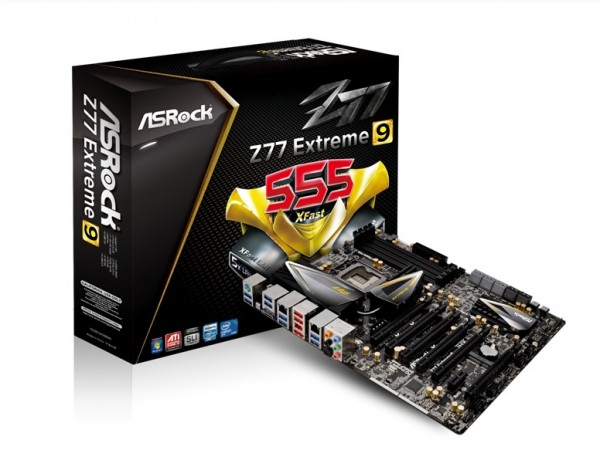 Based on Intel Z77 chipset, ASRock Z77 Extreme9 still features several state-of-the-art techniques from industry heavy hitters, such as Intel Smart Connect Technology, Intel Rapid Start Technology and Lucid Virtu Universal MVP, Broadcom Dual LAN with teaming function, etc.
Gaming Beast : Fatal1ty X79 Champion
Gaming is so serious. High-performance PC is required to fight with the game. ASRock introduces a top gaming machine "Fatal1ty X79 Champion" at CeBIT 2012 – the world's most powerful gaming kit to date.
The enticing features of Fatal1ty X79 Champion include Digi Power, 12 + 2 CPU Power Phase Design supporting Sandy Bridge-E processor, 8 x DDR3 2400+(OC) memory slots, 12 USB 3.0, 6 SATA3 connectors and Broadcom Dual LAN with teaming function. The exclusive Fatal1ty Mouse Port offers precise mouse control, easily helps gamers to beat the opponents. PC enthusiasts will also appreciate rich expansion slots as well. There're 5 x PCIe x16 3.0 slots that are capable of running NVIDIA 4-Way SLI and AMD 4-Way CrossFireX. For audio aspect, this board is also specially equipped with onboard Creative Sound Core3D quad-core sound and voice processor onboard, offering rock-solid sound entertainment.
Luxurious features extend to the onboard voltage measurement points. V-Probe™ is a 7-set of detection points laid on the Fatal1ty X79 Champion, allowing overclockers to easily and quickly get the accurate voltage readings via a multitester.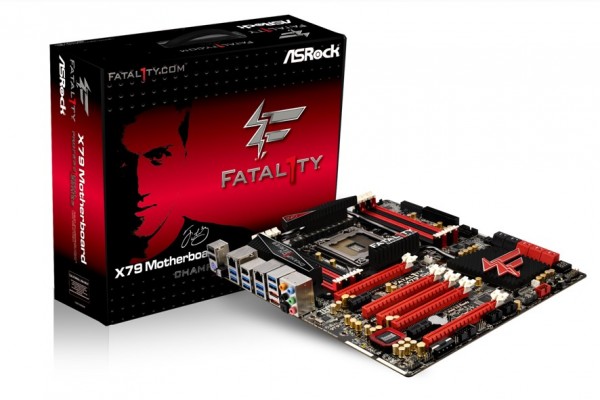 Last but not least, the board comes with Marvel SE9230 controllers that allow users to enjoy the benefits of HyperDuo Plus™ technology. While the SSD and HDD are connected, HyperDuo Plus™ technology can make the SSD become the cache of the HDD to enable SSD-like performance. ASRock HyperDuo Plus technology saves more time on data transmission and provides up to 14 times faster performance than a HDD-only system.
Performance Gear : Fatal1ty 990FX Professional
Fatal1ty 990FX Professional is a full featured motherboard with the new AMD 990FX chipset, supporting the AM3+ Socket and 8-Core CPUs. The superb overclocking characteristics include Premium Gold Caps, Digi Power, 12 + 2 power phase design, Fatal1ty Mouse Port and Dual LAN with teaming function. Three graphics card slots support AMD Quad CrossFireX, 3-Way CrossFireX and CrossFireX, as well as NVIDIA Quad SLI and SLI. This set-up allows the Fatal1ty 990FX Professional motherboard to support virtually any kind of graphic card set-up, providing gamers with the best possible graphics configurations.
AMD is best known for cost effective processing and superb over-clocking features, making it a favorite among gamers.
AMD's MVP : A75 Pro4/MVP
A must-see motherboard at ASRock CeBIT 2012 is A75 Pro4/MVP. This is the first AMD motherboard supporting Lucid Virtu Universal MVP technology in the world. The board allows gamers to take advantage of this new technique and enjoy the amazing HyperFormance™ and Virtual Vsync™ functions.
Featuring AMD A75 Hudson-D3 chipset, ASRock A75 Pro4/MVP is wonderfully suited to the AMD Llano APU and can natively support USB 3.0 and SATA3 technologies. Fantastic features of this mobo also include AMD Dual Graphics, Steady Video™, AMD Radeon HD 65XX/64XX and DX11 graphics technology (supported by APU) and ASRock signature On/Off Play technology.
HTPC
3D-oriented HTPC media systems : Vision 3D & CoreHT
Creating state-of-the-art entertainment system for all the family to enjoy is a breeze with ASRock Vision 3D HTPC Series. ASRock Vision3D HTPC features Intel Huron River HM65 chipset, 2nd generation Core™ Family processors and NVIDIA GeForce GT540M graphics. The system is capable of NVIDIA 3D Vision and 3DTV Play, offering high-performance for playing fast-paced games, watching HD movies, gaming and music. Nice features also include HDMI 1.4a output, a built-in Blu-ray Disk drive, 2T2R Wireless and a MCE-supported remote controller.
Equipped with the same CPU and chipset with Vision 3D platform, ASRock CoreHT Series features Intel HD Graphics with Built-in Visuals. With the support of Blu-ray Stereoscopic 3D playback via HDMI v1.4a output, users are ensured to watch the fantastic 3D movies completely. The system also brings together the Bitstream and THX TruStudio technologies to deliver the breathtaking authenticity in sound.
To create a truly immersive entertainment system, the ASRock 7.1-channel home theater Vision 3D and CoreHT systems will do the job brilliantly.

Vision 3D & CoreHT
IPC MOTHERBOARD
Productivity, Stability, Reliability : IMB 140 / 141 / 142 / 170 / 370
New arrivals at CeBIT 2012 include the newest IPC motherboard series. When it comes to professional industrial PC, functionality is everything! ASRock IPC motherboard series can be widely applied for any kind of industrial applications, such as process control, data acquisition, etc. In addition, ASRock brings a bucketful of easy-to-use applications, allowing customers to easily build up their business. From KIOSK, gaming machine panel PC, retail & POS to surveillance…, getting more from the motherboard has never been easier.
ASRock will provide long-term and stable supply to meet customers' needs. ASRock will offer 2 year warranty for their products and deliver high performance after-sales service as well. ASRock IPC motherboard specification is adjustable, delivering a more customizable way for customers to easily monitor and mange their business. IPC mobo lineup includes 5 skus which are IMB 140 / 141 / 142 / 170 / 370. With the top-end components and comprehensive packages, ASRock IPC Motherboard Series are undoubtedly the most trusted solutions to enhance your valuable business.

Fresh technology, straight to your eye. If you want better performance, upgradable configuration and professional service, take a look at our range of dedicated motherboards. You'll find perfect mobos to suit every budget and purpose – from great C/P value to feature-rich mainboards. ASRock will be presenting an extensive show during CeBIT 2012, taking place March 6th – 10th in Hannover, Germany Hall 17 C32 booth. We believe our exciting mobo packages will definitely make geeks swoon!
For more detail information, please visit : http://www.asrock.com/news/show/CeBIT2012/