– Nokia Browser 2.0 delivers enhanced speeds and a new user interface for a faster, better way to explore the web
– Powered by cloud-based servers, it delivers accelerated browsing and reduces data consumption by up to 90%, without compromising the internet experience
– Web apps from the expanding catalog are easier than ever to explore and install right in the browser
Espoo, Finland – Nokia has today announced the availability of Nokia Browser 2.0, a major update dedicated to Nokia Series 40 devices. The new version reduces data consumption by up to 90%, meaning that consumers can enjoy faster and cheaper internet access. Web sites load up to three times faster in comparison to devices without cloud-accelerated browsing and consumers will also benefit from a number of other enhanced capabilities.
From the first look, consumers are easily able to discover new web content and enjoy one-click access to top, local sites via the Nokia Browser's inviting and intuitive start page. We have optimized the browser to enable users to easily stay connected with friends and family at the touch of a button as well as to share files and links across social networks. The new and improved Download Manager helps consumers to manage external content easily, saving music, video or pictures on a memory card, while surfing the internet.
The browser includes a revamped, modern user experience that makes it simple to find, install and use interesting web apps that offer a richer, more desktop-like internet experience. Launched in mid-2011, the Nokia Browser is the first browser of its kind to support web apps, and now boasts a catalogue of more than 10,000 of the latest apps. Several publishers have experienced over a million downloads in a matter of months, demonstrating strong consumer demand.
With this update, developers will find new monetization capabilities, more extensive user interface options for their web apps and productivity improvements for Nokia Web Tools so they can continue delivering engaging, connected experiences to the 'Next Billion' consumers.
The update supports all forms of Series 40: Touch, QWERTY and Non-Touch, including the Nokia Asha range, as well as popular devices such as the Nokia C3-00, Nokia C2-03 and Nokia X3-02. The update will be pre-loaded on some current and all future Nokia Series 40 devices, while for existing users the update arrives as a free, optional over-the-air download. New users can download it from the Nokia Store. The browser is available in 87 languages in over 200 countries and territories.
Nokia Browser 2.0 makes use of cloud-based servers which adapt standard web pages so that they perform better on Nokia Series 40 devices. Since web pages are compressed and cached in the cloud, end users can access web sites in a manner which is faster and requires significantly less data to be sent over their mobile network. For pay-per-use contracts this will result in more cost-effective browsing, while users on an operator data plan will be able to do more web surfing without exceeding their monthly usage limits.
"With our new version, we've created a newer, faster, better browsing experience. As many consumers around the world will experience the internet for the first time through a mobile phone, this is a great step towards our goal to connect the 'Next Billion'," explains Dieter May, senior vice president of mobile phones services, Nokia.
New in the Nokia Browser 2.0
1. Faster browsing with speed improvements throughout the experience.
2. Easier access to new and popular Web apps to enable a richer and more engaging internet experience.
3. New, intuitive user interface offers one click access to search, most popular content and most valuable features.
4. Media handling enhancements provide an easier way to enjoy video, audio and images. Users can download in background mode while continuing to browse the web or queue downloads for later when performance or rates are better. Downloads can be saved to memory cards or phone memory for later offline viewing or listening.
5. One-click share on Social Networks by remembering Facebook and/or Twitter login to easily share any page URL and comments from your browser.
Developers can find out more about how the updated browser will enable them to build rich standards-based web apps at: http://www.developer.nokia.com/Develop/Series_40/Series_40_web_apps/.
Consumers can download the Nokia Browser 2.0 at: http://store.nokia.com/content/51924
Nokia Browser 2.0 screenshots
1. Indonesia Start Page -Localized to make it easy for people to find the most popular content in their market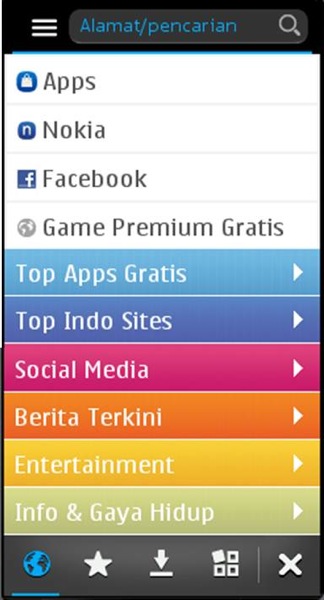 2. Free Wi-Fi Locator – Smartphone-like web app on an Asha device – consumer don't have to compromise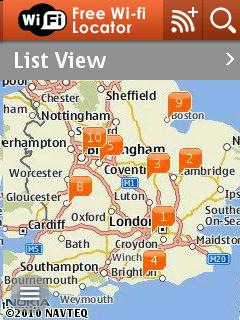 3. An app that showcases many features of the platform is this Movie Review app. This is an excellent example of the type of sophisticated user experiences that web apps can deliver to our customers