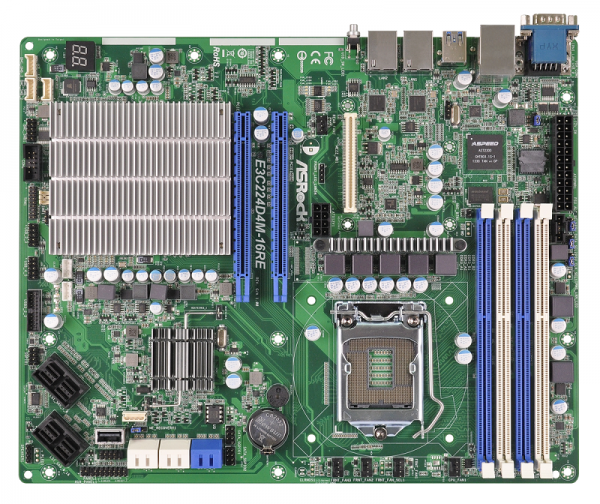 TAIPEI, Taiwan, January 6, 2014 – Dear God, all I need is an all rounder server motherboard that offers 16x 12G SAS-3 connectors while taking up less space and using less power, a Mezzanine slot for upgrading to 10GLAN plus ECC memory for stability, is that too much to ask for?
Not really, because your wish is ASRock Rack's command! ASRock Rack's E3C224D4M-16RE is the world's first 12G SAS-3 server motherboard specifically built to fit our enterprise customers' needs.
ASRock Rack's E3C224D4-16RE adopts LSI™ SAS 3008 controller + 3X24R expander to support 16 SAS-3 (12Gb/s) ports directly onboard with 4 SAS HD connectors.
A whopping total of 22 connectors, including 16 SAS-3 connectors provided by LSI™ SAS 3008 controller + 3X24R expander and 6 SATA ports, which can offer more than enough storage options! ASRock Rack is a pioneer in introducing the SAS-3 12Gb/s standard to the server marketplace.
The groundbreaking SAS-3 solution and Mezzanine slot (10G) is brilliantly designed for businesses to create solutions for intractable data bottlenecks in Big Data/Network Storage, ERP/MRP, Network/Security and Web Farm/Hosting environments. With the onboard 16 SAS-3 ports, anyone can get more things done in less time!
For more product information, please visit our website.